Participate in Give Aloha – Build the Windward O'ahu Scholarship Fund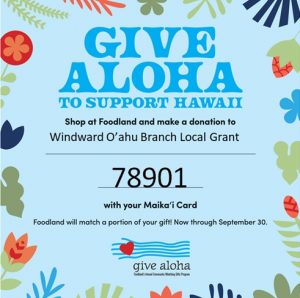 From September 1 to September 30,  2023,  customers are invited to make donations of up to $249 to the Windward O'ahu Scholarship Fund through the Give Aloha program. Donations are accepted at any Foodland, Sack N Save, or Foodland Farms checkout.  Foodland and the Western Union Foundation will match a portion of each donation.  Individuals must use their own Maika'i number to make a donation.  Donations made without a Maika'i number are not matched.
How to Donate
At checkout, present your Maika'i card (or provide your number) and inform the cashier that you would like to make a donation to The Windward O'ahu Scholarship Fund, code number 78901.   If you do not have a Maika'i card/number, you may request to establish one.  Your donation will be added to your grocery purchase total.  You may donate up to $249 per organization; any portion exceeding $249 will not be matched.  The amount you donate and the name of the Scholarship Fund will appear on your receipt.
————————————————————————————————————————————–
CELEBRATING EDUCATION

Members celebrated education during the annual Scholarship Fundraising Luncheon held in April, 2019.