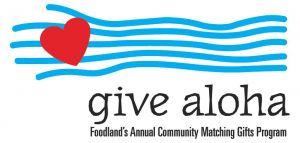 FOODLAND'S MATCHING GIFT PROGRAM
From September 1 – 30, customers are invited to make donations of up to $249 to the Windward Branch 2019 Scholarship.  At checkout, present your Maika'i card and inform your cashier you would like to make a donation to our scholarship, code number 78901.  The amount you donate and the name of our organization will appear on your receipt.
EDUCATING WOMEN TO SHAPE THE FUTURE

Congratulations were given to the 2018-2019 Scholarship Recipients at the annual Scholarship Luncheon held at the Pohai Nani Retirement Center June 2, 2018.  Below are the nine recipients along with Windward O'ahu AAUW members and guests.